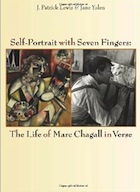 Self Portrait with Seven Fingers
With J. Patrick Lewis
Illustrations by Marc Chagall
I have always loved Chagall's bizarre, colorful flying-in-the-sky-fiddler's-on-the-roof pictures. And so when Pat Lewis (now Children's Poet Laureate of America) and I started talking about doing some books of poetry together, I offerred Chagall and his action-packed life to Pat as a prospect. We had Creative Editions in mind from the very start, basically because it seemed it would be the only publisher willing to tackle such an odd subject–a life of an artist in verse.
Boy! were we right! The ever-wonderful publisher, Tom Peterson, snapped it up from several poems and a proposal and we were off and running. Well, off and punning at any rate, and off and poeticizing. No one is faster off the mark than Pat. We each chose the pictures and the parts of Chagall's life we wanted to put into verse. There was never a moment of angst or anger between Pat and me, even when we were critiquing one another's poems. I wrote (and rewrote) all of the nonfictional pieces.
Accolades:
Self-Portrait was a 2011 Cybils Finalist.
Miscellany:
There is an Italian edition.
Around the Web:
What reviewers have said:
* STARRED REVIEW * "This book may quickly become a favorite of art-loving families and museum docents. Most of the book's two-page spreads include an evocative poem (by either Lewis or Yolen) inspired by or reflecting upon the painting on the facing page. These spreads also feature informative, telling biographical briefs that anchor the art and beautifully crafted poetry to Chagall's long, incident-rich life and artistic career…teachers and parents often find his work particularly accessible and appealing to children who readily and eagerly decode his imagery, making this book useful as well is beautiful.This inspired collaboration adds a heightened poetic dimension to readers' understanding of Chagall's life and art."—Kirkus
"Lewis and Yolen pair 14 poems about Marc Chagall (1887–1985) with reproductions of more than a dozen of his paintings (as well as vintage photographs) in this moving account of the artist's Jewish upbringing in what is now Belarus ("Oh, Uncle, play me a communion,/ on your kishefdik violin"), his ascent in the art world, and his loves and losses, including arrest by the Nazis while living in Paris ("There is no arguing with soldiers,/ no pleading while wearing the yellow star"). The duo's emphatic and empathetic verse is put into context by informative biographical sidebars that appear beneath each poem. A study in resilience, dedication, and wide-ranging talent."—Publisher's Weekly
"Everything about this book sings of quality and originality. The poems, the art, the layout, the fonts, the heavy gauge slick papers, all create such an endearing work of art. Creative Editions lives up to its name. We open the book and find Chagall's penetrating young eyes staring out at us from the Table of Contents, the background of which offers a taste of detail from the artist's "Double Portrait with a Glass of Wine, 1917," and already we are drunk with fancy and delight. Page after page, image after image, we are drawn into a visual world of dreams and imagination. But it is the sweet song of the poetry that stays with us long after we close the last page of this picture book masterpiece. Like the perfect sonnet, the fourteen poems take us on a chronological journey from Yolen's "Maternity" to Lewis' "The Fall of Icarus." Lewis writes in the final poem, "There was a young man who believed he could fly." By the end of the journey we, too, wear the wings of Chagall. This is a treasure for young and old, for scholars and dreamers, for the artist and poet in us all."—Charles Ghigna (Father Goose)
"Any art teacher introducing Marc Chagall without the benefit of this book is missing a great opportunity! Highly recommended."—Shelf-employed.com
"With a title inspired by one of Marc Chagall's paintings, this handsome, large-format book traces his life through free-verse poems and paragraphs of information, illuminated by excellent reproductions of his paintings and a few period photos of the artist and his world. . . . Both Lewis and Yolen contribute poems, usually written from Chagall's point of view, and the quality of the verse is quite good. A list of sources is appended. On a typical double-page spread, a clearly written paragraph of information works with the poem and the large illustration on the facing page to communicate a sense of who Marc Chagall was and what he loved as well as tracing the story of his life, noting his accomplishments, and commenting on the artworks shown. A unique introduction to Chagall and his art."—Booklist
"Two equally esteemed poets lend their voices to the art of Marc Chagall. Fourteen poems, which take their titles from Chagall's paintings, provide a chronological narrative of the artist's life, up to his death at age 97 in 1985. Excellent-quality reproductions grace this picture-book-size volume, as do photographs of the artist. There are explanatory notes beneath each poem and a bibliography at the end. Yolen's "Maternity" begins with Chagall's birth, in the then Russian city of Vitebsk; family members toast with schnapps–"May he be a herring merchant like his father." But it is his mother who seems aware of the muse already present in the room: "May he always be happy in his work." Some of Yolen's poems are flavored with Yiddish (translations appear at the bottom of the pages); Lewis's poems are more formal but are also rich in revelation about the paintings. In "I and the Village" he writes, "I knew myself, white lips, my face in green,/I drew the cow's contentment in between." Both poets offer readers new understandings of the paintings: Yolen's "The Flying Horse" conveys the inescapable fear present during the Holocaust, while Lewis's "The Fall of Icarus" provides a horrifying explanation of the red path that divides the painting. The writers grasp the iconography and sensibility of Chagall's work and provide readers with new paths to make this strange and beautiful journey."—School Library Journal
"To do something with seven fingers is a Yiddish expression meaning to do something well or adroitly. The expression would be appropriate in describing the authors of this very book."—donnabowmanbratton.blogspot.com