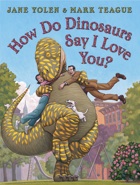 How Do Dinosaurs Say I Love You?
Illustrated by Mark Teague
Scholastic/Blue Sky
ISBN# 978-0-545-14314-1
The idea for this book came from the Scholastic salesmen and the editor who all felt it would be a winner. And since they did a huge Toys R Us push for the book, they asked Mark and me to sign 7500 (that's the correct number) bookplates.. Without thinking, without remembering that I have some arthritis in my hands, I said yes. And regretted it afterwards. Do you KNOW how long it takes to sign that many bookplates? Watching tv to keep your mind flexible and numbed? Two solid weeks. And soaking my hands after each long session. You see, Dear Readers, what we authors go through for our fans!
Watch the book trailer!
Accolades:
One of Time Magazine's top ten children's books of 2009!
The 2009 Holiday Buying Guide from Reading Rockets lists HOW DO DINOSAURS SAY I LOVE YOU as one of their Best Buys.
A Parent's Choice Award winner
What reviewers have said:
"The latest in Yolen and Teague's long-running series features dinosaurs testing boundaries—then making amends: "You woke in the morning in such a bad mood," a human mom reproaches her colossal neovenator, who grumpily rubs his eyes in his bed. But later, an ouranosaurus with a crenellated red fan along his spine exits the house, blowing a kiss to his adoring dad: "But then you blew kisses and waved from the door. I love you, I love you, my dinosaur." Kids should relate to the dinosaurs' mood swings and take heart in the notion that love conquers all. Up to age 4."–Publisher's Weekly
"In this ninth outing in the series, the naughty behaviors of young dinosaurs are followed by an endearing act that reminds their human parents why they love their offspring. . .Expressions are expertly painted for humorous effect, including the defiant Tsintaosaurus letting water overflow onto the floor and the rollicking Pachycephalosaurus kicking the seat while mother is driving the car. The large, colorful spreads and rhyming text that is still a joy to listen to after repeated readings make this a successful storytime selection. Well-designed pictures and skillfully arranged words will entice newly independent readers, who will be challenged to find the dinosaur name hand-lettered in the illustration where the creature is introduced. The familiar format will produce laughs, kisses, and cuddles during or after an exhausting day of many of the same events."—School Library Journal
"This humorous and brightly illustrated book shows the special love between parents and children, and the magic of three special words – I love you!"—KidsBookShelf.com
"Sometimes the creators of long-running series surpass themselves – as in these two books. As good as the How Do Dinosaurs series has always been – with its fanciful portrayals of accurately rendered dinosaurs rampaging through modern households, standing in for modern children – the latest entry is even better than most, because of the amount of interactivity between human parents and kids-as-dinosaurs. Instead of being incidental to Jane Yolen's story, the parents here are integral to it, from the frowning mother watching her little (well, actually huge) Neovenator rubbing its eyes and crossing its legs after waking up in a bad mood, to the annoyed-looking mom trying to drive while her rambunctious Pachycephalosaurus kicks the seatback. . . The dancing, whirling, spinning and bouncing dinos are a wonder to behold, the soft-pedaled behavioral lessons are effectively conveyed, and the ways in which human parents handle their dino darlings are even more delightful than usual." —Infodad.com
"This author-illustrator team does such an awesome job of delivering the message that no matter what a child does, he's still very loved. I have such a naughty dinosaur at home myself and this book will please him to no end because he absolutely LOVES it when I appreciate his hugs and kisses. . . .. Needless to say, the illustrations are splendid–I love how the dinosaurs portray the many moods and expressions of children from fussing to 'dragging their feet'–funny! If you've read any of the other dinosaur books by this dynamic duo you will definitely love this one."– Read Along with Biblio
"A creative and offbeat addition to the list of fun dinosaur picture books for kids, How Do Dinosaurs Say I Love You? makes a good book to read with young dinosaur lovers."—Suite101.com
"How Do Dinosaurs Say I Love You? is part of Jane Yolen's "Dinosaur" series, which happens to be one of my favorite, favorite series. Along with awesome illustrator Mark Teague, readers get a hilarious glimpse into the lives of our favorite dinosaur. . . No matter what a child does, he or she is always loved and Yolen is able to get that point across very well, while mixing silly rhymes with Teague's bright and fun illustrations. Great for group read alouds, also awesome for bedtime stories between families. I don't think you can ever go wrong with a Jane Yolen book, but the "Dinosaurs" are definitely some of my favorites!"–http://apatchworkofbooks.blogspot.com