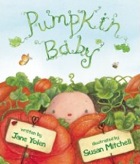 Illustrated by Susan Mitchell
Key-Porter Books 2009
ISBN# 1554701414
I began this years and years ago, with a young illustrator, and it was a watermelon baby. But she disappeared from the scene. About fifteen years later, I rewrote it entirely and finally found the perfect editor in a Canadian publisher for the book. She found illustrator Mitchell whose very young, innocent illustrations perfectly complemented the text.
What reviewers have said:
"The text of this picture book is very well suited for young readers. The vocabulary is simple and easy to understand. The repetition of sentence constructions will help young readers to follow the story more easily. This picture book also has great potential as a read-aloud. The beautifully written descriptions will intrigue young readers. In a classroom setting, Pumpkin Baby could also be a great tool for shared reading. The use of quotations provides a great teaching moment for features of text. Children could also discuss what they have learned about family life from the young heroine's experiences with the "Pumpkin Baby?"– Manitoba Library Assn Magazine  Highly Recommended.   4 stars out of 4
"Award winning author Jane Yolen has written a wonderful story in poetry. Anyone who knows very much about me, knows that stories in rhyme or poetry are my favorite stories and this is one of my new favorites! Susan Mitchell has chosen a wonderful color palette. Each page has fun illustrations to illustrate each verse."-Louise's Blog
"This gentle tale does a good job of helping little ones understand that it's OK to have some concerns and questions about a new sibling's arrival. As the little girl pictures "her" baby with different features (hence the title of the book), she starts to think about love and what she is capable of."– Amanda's Parenting Preschoolers Blog
"A touching story about sibling love."– Kids Bookshelf.com
"Yolen and Mitchell are a great pair for this story; it is beautifully told and beautifully illustrated."–Booking It
"Through illustrations that show a child's dreams of a "pumpkin," "cabbage," and "stork" baby, and a text that uses repetition to great effect, Jane Yolen and Susan Mitchell create a funny new look at old wives tales that explain where babies come from. A great picture book for parents, teachers, librarians, or older siblings to share with younger children." –Suite101.com"Awww! Jane Yolen nails this tale exactly. Having had the privilege of giving my kiddos little siblings of their own, I can say that Pumpkin Baby very imaginatively, but with great accuracy, tells the tale of a bigger sibling waiting for baby. It's endearing and so true! Just what you'd expect a little one to imagine when listening to grown-ups talking about a baby on the way. You will love this charming little book and sharing it with your kiddo will help prepare for the big day. Delightful and a joy to read; the illustrations are so adorable and appropriate."– Read Along with Biblio