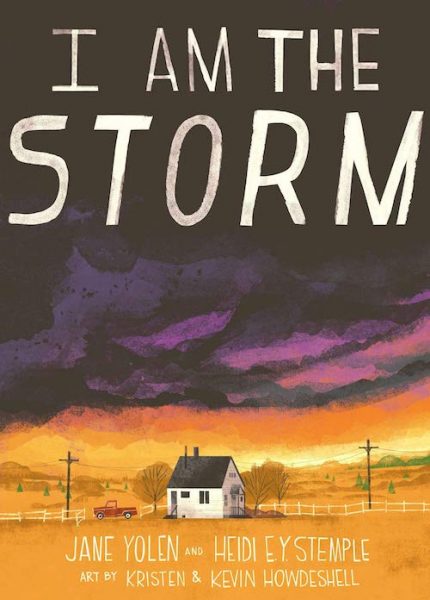 Rise x Penguin Workshop (October 27, 2020)
with Heidi E. Y. Stemple
Illustrated by Kevin & Kristen Howdeshell
ISBN-10: 059322275X
ISBN-13: 978- 0593222751

Daughter Heidi Stemple and I were telephoned by the editor of a new  early-reading  imprint  "Rises" for Penguin Random house. We knew her though had never actually done a book for her. Se told us about an idea and we ran with it, and it became this book:
A tornado, a blizzard, a forest fire, and a hurricane are met, in turn, with resilience and awe in this depiction of nature's power and our own. In the face of our shifting climate, young children everywhere are finding themselves subject to unfamiliar and often frightening extreme weather. Beloved author Jane Yolen and her daughter Heidi Stemple address four distinct weather emergencies (a tornado, a blizzard, a forest fire, and a hurricane) with warm family stories of finding the joy in preparedness and resilience. Their honest reassurance leaves readers with the message: nature is powerful, but you are powerful, too. Illustrated in rich environmental tones and featuring additional information about storms in the back, this book educates, comforts, and empowers young readers in stormy or sunny weather, and all the weather in between.
Heidi found some bracelets with a saying "I Am The Storm,"and sent them to the editor and her assistant. We named the four of us, "The Storm Sisters" and so we have remained.
Accolades:
What reviewers have said:
"This comforting title is part of a new line of picture books explicitly aimed at helping children feel capable and supported, and it does so perfectly. The repetitive storytelling shows that some things can be predictable amid the unpredictable." — Kirkus
"Yes, there's lots of support and well-timed deflection from protective adults, but there's also the reality of fear that the best intentions and amusing diversions can't erase. Yolen and Stemple's soothing text, combined with brief and plain spoken appended paragraphs on the four storms, is firmly focused on the optimistic, but that makes it just the ticket for parents seeking to approach this topic with sensitivity; the Howdeshells' use of bright, contrasting color creates visual tension that acknowledges the jitters running through the cozy domestic scenes. The narrators celebrate their resilience, and even the most nervous of the lot attests, "when the storm passes, as it always does, I am the calm, too.""— Project Muse
Buy I AM THE STORM from: