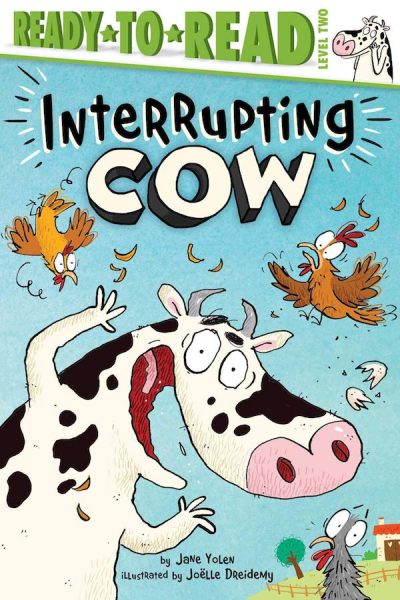 Simon Spotlight (August 25, 2020)
Illustrated by Joelle Dreidemy
ISBN-10: 1534454233
ISBN-13: 978- 1534454248

I wrote The Interrupting Cow for my wonderful grandchild Ari Stemple when they were young and that was their favorite joke. I laughed every time they told me the joke; luckily my visits were usually only three or four days long! Now they're in college and a writer themselves, but they still make me laugh. Because it is written as an easy reader, there are going to be a bunch of them. The second one is already illustrated and on its way. The third written and accepted. And I am working on the fourth even as I write this. There will probably be six in all. And if I can make you laugh as much as Ari made me laugh, I will be very happy indeed.
The Interrupting Cow Series:
What reviewers have said:
"Yolen's sidesplitting early-reader series opener cleverly personifies the misunderstood subject of the classic joke. (Interrupting Cow and the Chicken Crossing the Road is due out in December 2020.) Dreidemy's full-color illustrations add to the hilarity with expressive cartoon character designs. With a total vocabulary of fewer than 200 words—including lots of synonyms—and at most nine lines per page, the text stays accessible to emerging readers. The most difficult word, "interrupting," is even spelled out phonetically. "— Kirkus
Buy INTERRUPTING COW from: