King Henry (in The Book of Ballads)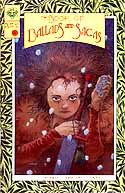 KING HENRY
Comic book illustrated by Charles Vess
Dark Horse Presents October 1993
ISBN# 0-9657769-0-51 Green man Press paperback
"The Book of Ballads and Sagas"
Published for adults.
This is a comic book for adults, not children. The artist Charles Vess–whose work in comics and illustrated books I had admired for a long time–asked a number of fantasy writers to try writing a comic book story based on a
Scottish/English folk ballad. I chose "King Henry," a ballad in the Loathly Lady tradition. (My favorite rendition of the ballad is by Steeleye Span.) As nowhere is it said which King Henry is meant, I decided to write as if the King is Henry VIII and the lady is Anne Boleyn under a magical spell. The whole story is told to three-year-old Elizabeth on the day her mother is beheaded by her father. Vess did the story proud! He won the 1997 Will Eisner Comic Industry Award for his work on "The Book of Ballads and Sagas."
Charles Vess also did the cover art for my son's debut novel, Singer of Souls.
The Greenman Press edition is available.