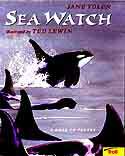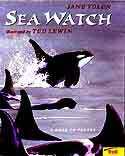 SEA WATCH
Illustrated by Ted Lewin
Philomel 1996
ISBN# 0-399-22734-2 Philomel hardcover
ISBN# 0-399-22734-2 Philomel paperback
A companion to "Bird Watch," this book of poems with marvelous Ted Lewin illustrations looks at about a dozen and a half creatures who live in the sea, from sharks and whales and otters and loggerhead turtles to small fish. It is amazing how much research goes into each poem, because the poem has to be accurate as well as poetic. I only wish that Ted (or the designer) had remembered to leave somewhere for the author to sign the books! There was a Troll Book Club edition.
What reviewers have said:
"Poems of the sea inhabit this slim volume as naturally as the denizens of the deep inhabit it. Each poem is about one species, and the collection, remarkably, brings the beauty of diverse watery habitats right into the reader's consciousness. The poems beg to be read aloud. My favorite was "The Crab," skittering sideways into the patient calculations of the sea. Yolen's mastery of words is here, as are Ted Lewin's effervescent images of oceans and bays and tidal pools."—Children's Literature
"The poetry is spare and often dramatic with well-chosen words and carefully crafted phrases that bring each marine creature to life. …The vivid colors have a wide- ranging palette that results in a sometime startling combination of colors that merits a second look…The black depths of the night sea are portrayed along with the cool blues of tropical waters and each animal swims through it with almost photographic accuracy…A beautiful collection."—School Library Journal
"Tantalizing, teasing, nearly ticking all the senses, Yolen and Lewin introduce young readers to the fascinating diversity of life within the sea…. Incredibly gripping, Yolen's poetry informs, educates, and even inspires older children to look closer at the many forms of life about them."—Mecklenburg Gazette
"This picture book is a treasure unraveling the mystery of the sea…Highly recommended for all sea lovers—young and old."—Catholic Library World
Out of print.
---
Order from:
Search for Out of Print Books: