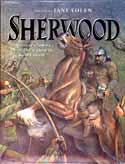 SHERWOOD
Illustrated by Dennis Nolan
Philomel 2000
ISBN# LC 97-47765
Eight new stories about Robin Hood and company, by such worthies as Nancy Springer, Anna Kirwan, Mary Frances Zambreno. It also includes son Adam Stemple's first solo short story. My story is called "Our Lady of the Greenwood" and is about the magical way in which Robin was named.
Awards:
Best Science Fiction, Fantasy and Horror, 2000 ; Voice of Youth Advocates
Notable Social Studies Trade Books for Young People, 2001
See an interview with me on Sherwood.
What reviewers have said:
"Clever application of folkloric elements to original stories combined with consistency and smooth writing will enliven the imaginations of all Robin Hood enthusiasts." — School Library Journal
"Crafted by master word weavers, this wonderful collection of eight original short stories adds new designs and textures to the to tapestry of Robin Hood lore. … And in Adam Stemple's humorous "Robin Hood v. 1.5.3," delighted readers will find Robin's cyber spirit redistributing the world's wealth through the Internet. A beautiful painting enhances each story." — Children's Literature
"This book will be of interest to readers of the fairy tale based novels by Robin McKinley and Gail Carson Levine, as well as anyone interested in the Robin Hood legend itself. There is humor and adventure enough for reluctant readers, and several of the stories would be great readalouds in a classroom or library setting." — VOYA
"… Adam Stemple takes it hilariously into our own future by setting an Artificial Intelligence with a Robin Hood complex loose in cyberspace. Though the stories will stand alone, readers already familiar with Robin's career and better-known associates will have a leg up; consider this an intermediate step between Jane Louise Curry's Robin Hood in the Green Wood (1995) and novel-length treatments, from Robin McKinley's Outlaws of Sherwood (1988) to Michael Cadnum's In a Dark Wood (1998)." — Kirkus
"Yolen is, in my opinion, incapable of picking a bad story, and the writers herein are equally incapable of writing a bad tale. Sherwood contains stories by Timons Esaias, Robert J. Harris, Anna Kirwan, Nancy Springer, Adam Stemple, and Maxine Trottier. All are quick, delightful reads suitable for reading of a warm summer's evening. I particularly like Adam Stemple's tale of a digital Robin Hood redistributing the global wealth of all the rich, Nancy Springer's "Know Your True Enemy," a heartbreaking telling of the Sheriff of Nottingham's son's failed attempt to capture Robin, and Jane's own "Our Lady of Greenwood," which, like Richard Carpenter's Robin of Sherwood series, adds the Fey to the Robin Hood mythos." — The Green Man Review
"While the tone of this volume is 'merry,' the stories vary from reverence to irony, revealing cracks in the character of this well-known legend. Telling tales of betrayal and faithfulness, Yolen accompanies her collection with the painterly illustrations of Dennis Nolan's Sherwood Forest and quickly paced narratives to appeal to young audiences." –ALAN Review
"Each story is introduced with a verse from a traditional ballad about Robin Hood, and each has its own unique take, whether modern or traditional, on the hero. Dennis Nolan's brooding full-page color paintings have a forest-primeval tone that suits the shadowy vales of Sherwood. Not only will this be fun for Robin Hood fans, but those looking for a jumping off point for creative writing assignments can start here." –Bulletin of the Center for Children's Books
Available in hardcover.
---
Order from:
Search for Out of Print Books: