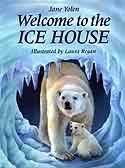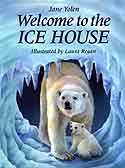 WELCOME TO THE ICE HOUSE
Illustrated by Laura Regan
Putnams 1998
ISBN# 0-590-68944-4 Putnams hardcover
ISBN# 0-590-68944-4 Scholastic Book Club
This book is about the Arctic in occasional rhyme, part of a series of four Welcome To … books. It takes a lot of research to write a poem about a place. I have been to Alaska three times but I've never seen a polar bear. Chosen as an outstanding Science trade book for children for 1999. It was also an honor book for SOCIETY OF SCHOOL LIBRARIANS INTERNATIONAL 1998 Book Awards in the Science, K-12 category.
The Welcome to… books:
See Laura Regan's page on this book.
What reviewers have said:
"The spareness of the arctic landscape lends itself to a picture book elegant in painting and poem. Yolen's confident hand with verbal rhythms has never been more evident. The unforced musical language is a pleasure to read. Regan's double-page paintings use an icy palette of blues and whites to create a sense of chilly beauty and mystery … an excellent introduction to an ecology unit for elementary grades … It will be a cold heart that is able to resist this beauty." — starred review, School Library Journal
"With its endlessly rolling hills of ice, the arctic landscape appears bleak and forbidding. Indeed, Regan's paintings are so realistic her scenes seem as if they should be icy to the touch! … This companion to Yolen and Regan's Welcome to the Green House (1993) and Welcome to the Sea of Sand (1996) is an irresistible invitation to the "ice house" that will enrich youth science collections." — Booklist
"Take an exquisite journey through the cycles of life in the Arctic through (Yolen's) lyrical narrative and . . .Regan's illustrations."–NJEA Review
"The book begins with Yolen's poetic depiction of an Arctic winter, a time when some animals are on the prowl while others huddle and hibernate. After some pages of magnificent depiction of the depths of icy winter, Yolen suddenly switches gears to describe the explosion of color and life that spring brings, even there.. . .(She ) has a genius for putting together words in such a way that they coreate poetry as they also convey loads of information."–Pittsburgh Post-Gazette
". . .the loosely poetic narrative introduces both indigenous animals and seasonal changes. Readers will need sweaters to view the chilling, dramatic paintings."–Publishers Weekly
Available in hardcover from Putnams. The Scholastic paperback is only available
through the book club.