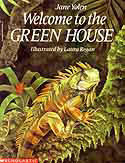 Welcome to the Green House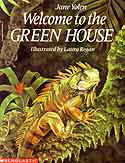 WELCOME TO THE GREEN HOUSE
Illustrated by Laura Regan
Putnams 1993
ISBN# 0-399-22335-5 Putnams hardcover
ISBN# 0-590-48091-X Scholastic book club paper
ISBN# 0-698-11445-0 Putnams PaperStar
This book about the rain forest in occasional rhyme began when one of the Save the Rain forest groups asked me to write a book for Laura Regan to illustrate. I adored her bold, color-drenched work. But I said they needed to find a publisher before I'd start. I knew there would be lots and lots of research ahead. I gave them the names of several of my editors and they got a go-ahead from my ever-wonderful editor Refna Wilkin at Putnams. I have been in both the Brazilian and the Australian rain forests.
The Welcome to… books:
Accolades:
A 1994 Bank Street Child Study Childen's Book of the Year in the Special Interest category.
A recommended title by the Kansas State Reading Circle and the Ohio State Reading Circle.
What reviewers have said:
"In the current fresh set of rainforest books,Yolen's rises to the surface not as a mere tour guide, but a gracious host to earth's "dark green,/ light green,/emerald green,/ brightgreen,/ copper green,/ blue green,/ ever-new green house." The author's atmosphere-laden free verse, which falls into unexpected, pleasing rhyme and repetition, correlates with Regan's sumptuous gouache artwork. While the text focuses on the relentless noise of forest inhabitants, borderless, painterly illustrations seem to spill off the pages in their intricate depictions of animals cavorting amidst tropical flora. The illustrations are just literal enough – allowing youngsters to match familiar and unknown species with names in the text. Yolen's language begs for reading aloud ….a strikingly vibrant package." — Publisher's Weekly (April 19, 1993)
" Dramatic paintings of tropical rain forest flora and fauna will capture children's attention as the steady rhythm of Yolen's brief text evokes the sounds of the "hot green house." This beautiful book makes a quiet plea to protect the environment." — Booklist
"Taking as her text a sentence from Darwin's Voyage of the Beagle–"The land is one great wild, untidy luxuriant hothouse, made by nature for herself"–Yolen lyrically compares a house to the rain forest ("… no roof in the green house,/only the canopy of leaves") … Regan makes an outstanding picture-book debut with lush full-bleed spreads rendered in gouache, with luminously diffuse light, exquisitely detailed wildlife, and decorative forms–close to the picture plane–that recall Leonard Weisgard's art. Unlike the plethora of contrived or sentimental books on the subject, this one is simplicity itself–eloquent and effective." — Kirkus
"Lavishly illustrated with full-spread images of the rain forest, this small publication provides a lot of information for young children about the animal life in the rain forest. Intricate pictures of a wide range of animals and insects tell a story of abundant life in this "house." … The illustrations are very impressive and invite continuing examination and discussion." — Children's Literature
"Yolen explores a tropical rain forest in an entrancing poem full of internal rhyme, alliteration, and evocative images. … Ideal for introducing rain forest ecology in the primary grades, this book may be also be used by preschool teachers. Its many animal sounds and closeup views of snakes, sloths, and primates will perfectly suit their inquisitive students. … The next best thing to a guided tour." — School Library Journal
"Yolen's brief, poetic, simple text … is descriptive and full of movement. … The pictures, in Regan's debut as a children's illustrator, earn more than equal billing. Her accurately-detailed, softly-outlined paintings present a panorama of the jungle's life. … Dappled light and shadow and the green of leaves and moss, layered on layer in a seemingly infinite jungle, create the image of a place with a special reality. The beauty and wonderful variety of the rainforest is the book's only message, being reasons in themselves to know that this space must be preserved." — Quill & Quire
". . .evocative text and abundant paintings. . .a useful introduction to a timely topic."–Horn Book Guide
". . .Yolen's text is rich with imagery and . . .Regan's gouche illustrations are perfectly gorgeous. . .passionate and poetic glimpse into a rain forest. . ."–Miami Herald
Available in both hardcover and paperback.
---
Order from:
Search for Out of Print Books: