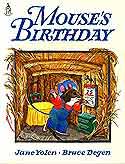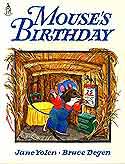 MOUSE'S BIRTHDAY
Illustrated by Bruce Degen
Putnams 1993
ISBN# 0-399-22189-1 Putnams hardcover
ISBN# 0-399-22845-4 Putnams paperback
I was challenged by an editor to write a repetitive nursery rhyme. So I began it "Mouse's house is very small, very small, very small. Hardly any room at all for anyone but mouse." And then the editor turned the book down. So I turned around and sold it to my wonderful editor at Putnam, Refna Wilkin. She got Bruce Degan to do the bouncy, irrepressible pictures. There is a Big Book edition of the book and it was a Junior Library Guild book as well.
What reviewers have said:
"These prolific, versatile collaborators ( Dinosaur Dances ; the Commander Toad series) here offer a disarming tale, populated by a cast with all the zest of the best nursery rhyme creations. Typically spirited and endearingly humorous, Degen's art is the ideal match for Yolen's jaunty rhyme. The alternation of large-scale likenesses (in sprawling, borderless paintings) with smaller, neatly framed vignettes proves beguiling–and utterly appropriate." — Publishers Weekly
"Jane's latest picture book is a rhythmic birthday story featuring a host of animals and a farmer who try to crowd into Mouse's little house to celebrate his special day. The rhyming text trips lightly off the tongue. It's great fun." — Children's Literature
"Told in simple, repetitive verse, a funny story that'll be a good choice for very young groups. The humorous, large figures of Mouse's friends dominate Degen's brightly colored illustrations in amusing contrast to the appealing little Mouse."–Kirkus
The Putnam's paperback is still available.
---
Order from:
Search for Out of Print Books: