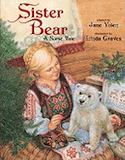 Sister Bear: A Norse Tale
Illustrated by Linda Graves
Marshall Cavendish
ISBN 978-0-7614-5958-3
One of my favorite Scandanavian folk tales is "The Cat of the Dovrfell" and when Linda Graves, a member of WMIG, the Western Massachusetts Illustrators' (which I'd started years ago) showed a folktale picture of a Finnish/Danish girl in full costume with a white bear cub at one of our meetings, I found my inspiriation for this retelling.
In the original folktale, the person who raises the bear cub and defeats the trolls is a man. But by turning him into a girl (and the bear female as well for more girl power) I was able to give the story a lovely feminist twist which only added strength to the otherwise bare-boned folk tale.
Linda's pictures sparkle with the cold of a northern winter/Christmas tale. And the costumes are to die for.
Accolades:
An honor book for the Massachusetts Book Award!
Around the web:
What reviewers have said:
"This beautifully illustrated retelling is one you will want to read again and again."—KidsBookshelf.com
"In this lively retelling of a Norse fairy tale, Jane Yolen spins a unique version by casting a young girl, Halva, and a female bear as the heroes…It is an endearingly whimsical story of a child who finds independence because of the loyal animal protector at her side. Beautiful illustrations in rich, seasonal colors depict people in cultural clothing and pastoral settings, with wintry undertones. This heartwarming story will make a welcome addition to folktale collections and a perfect read-aloud for the holiday and winter season."—Library Media Connection, January/February Advanced Reviews
"A satisfying tale for young readers favoring animals and a bit of adventure."—School Library Journal
"Prolific children's author Jane Yolen supplies her usual flowing prose, but it's the richly detailed illustrations by Linda Graves that children will remember. Graves delights in filling page after page with colorful tapestries of woodland animals, whimsically ugly monsters, and intricately designed costumes – and readers will love re-experiencing the book again and again just to soak in all of Graves' visual surprises."—Children's Books: SUITE 101.COM
"There isn't a dull moment in Yolen's rousing retelling of this Norwegian folktale, in which a girl tames a polar bear cub, defeats a band of tattooed trolls, and arrives at the court of the King of Denmark to royal acclaim. In the original, a bear trainer is the hero; Yolen (the How Do Dinosaurs series) has swapped him for a girl with yellow braids named Halva, a transformation that could seem contrived, but that Yolen executes with grace. "These are trolls. Ten feet high, green teeth, terrible manners," the trolls' victim, Gusterson, tells Halva. "Sister Bear will take care of everything," she replies, and she and her bear are as good as their word. Graves's (V Is for Von Trapp) characters have the romantic attraction of costumed toys, and nearly every spread features a loving look at a traditional Scandinavian garment and its intricate needlework. There aren't many readers who wouldn't like a pet bear of their own to defeat devious creatures and attract gifts from royalty; Yolen knows a good story when she sees one."—Publishers Weekly
"My children love books by author Jane Yolen and Sister Bear-A Norse Tale is a delightful addition to our Christmas book favorites. With beautiful illustrations by Linda Graves accompanying the rich text, this story of a young girl in Denmark really comes to life on every page…My children literally sat wide-eyed and captivated as I read this exciting adventure story to them which is filled with trolls, a white bear and a wooden flute. I appreciate that it exemplified the meaning of true friendship and loyalty and it is sure to be a story that is read in our home year after year during the Christmas season."—Simply Stacie
"Add this one to your fairy tale collection and to your winter storytelling repertoire…Highly recommended!"—Jean Little Library