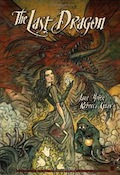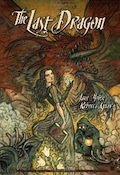 THE LAST DRAGON
Illustrated by Rebecca Guay
Dark Horse
ISBN-10: 1595827986
ISBN-13: 978-1595827982
If some of you think the basic plot of this graphic novel (my second graphic novel ever—and how I love the form!) sounds familiar, give yourselves an A+. It is based on, expanded from my novella, "Dragonfield" first published in 1985 in my collection of the same name.
I'd long wanted to turn it into a graphic novel, but getting someone to take me and graphic novels as a good pairing had to wait until the turn of the century and then some before Foiled came out from First/Second. And then DC made an offer on Dragonfield/Last Dragon. And. . .oh, you've noticed—not the publisher! Well, their draconian (pun intended) contracts would have made Last Dragon their copyrighted characters till the heat death of the universe. They are used to hiring writers, you see, to create stories around their owned characters. Besides the fact that the original story (in 1985, remember) was in my name, I didn't believe in giving away my rights like that. So we sold it to DarkHorse, a comics company known to be "creator friendly."
The whole project came with illustrator Rebecca Guay attached. Not only is she a neighbor (well two towns away), and we'd already worked together on the Barefoot Book of Ballet Stories, and are good friends, she was the one who suggested DarkHorse. The (very) young editor Rachel Eiddin was enormously enthusiastic from the start and kept a gadzillion editorial balls up in the air to produce the book. Rebecca worked for two solid years on the astonishing pictures that are both painterly and comic-book romantic. We are getting smashing reviews and the book is already on a list of ten best YA graphic novels this year. Great start!
Around the web:
Accolades:
Made the YALSA's 2012 Great Graphic Novels list!
What reviewers have said:
"Rebecca Guay delivers gorgeous paintings that look like a comic book illustrated by one of the Pre- Raphaelite artists, with a touch of Art Nouveau thrown in for good measure. The visuals are wonderful, as is the narrative flow. But Jane Yolen doesn't need art to help her tell a story — and before you correct me, I know she's the author of innumerable picture books. When she puts her talent to a prose novel or story (as when "The Last Dragon" originally appeared as the titular entry in the Dragonfield anthology), her words do all the magic that's required. The movie in the reader's head unreels just as it should without the neces-sity of visual direction.Still, just because a story doesn't require a visual adaptation to be successful, that doesn't mean it shouldn't get one. You need only put the question to the multitude of fans of books like The Lord of the Rings or the Harry Potter series — yearning for more of their favorite stories in other formats — to be given a resounding "yes." And in the best of worlds, the result is…not necessarily something better, but something different that is just as entrancing in its own right.That's certainly the case here. The mix of Yolen's prose and dialogue with Guay's expressive art deliver a collaboration that is an absolute delight from start to finish. What's it about? Oh, there are three sisters, a dragon, a reluctant hero, a village in peril…really, you need to read it to experience the magic for yourself. It's lovely, lovely stuff, and you won't be disappointed. Not even if you enjoy the original story as much as I do."—Charles DeLint in F&SF Magazine
"Sci-fi and young adult novel writer Jane Yolen pens a tale set in a world where dragons are thought to be extinct. So why are large animals disappearing? This 142-page hardcover graphic novel is drawn by Rebecca Guay, who is on a roll this fall with this book and also A Flight of Angels for Vertigo/DC. While Flight is an anthology, The Last Dragon gives Guay an opportunity to tell a long-form story in her beautiful, fantastical pre-Raphaelite style."— #31 of 50 best new comics from Sequential Tart
"This is a simple but layered story told exquisitely in words by Jane Yolen and in images by Rebecca Guay. Every detail is perfect, from the lettering to the borders adorning many pages. This is a small gem."—Stewartry.com
"This great story (based on the author's 1985 novella, Dragonfield) has a little romance, a lot of humor, and absolutely alluring (and at times, frighteningly real) illustrations."—BSCKids
"Great comic books come about when words and pictures are in perfect harmony. Such is the case in the new Dark Horse graphic novel "The Last Dragon" by prolific fantasy writer Jane Yolen and artist Rebecca Guay. It's a quick read, but you can attribute that to Yolen's skill. At this point in her career, she's written just about everything. She doesn't waste a word, nor does she needlessly prolong actions. The words she does use are chosen with care, and you see lovely passages normally reserved for longer works of prose."—Detroit News
"The art in this book is phenomenal! Even the font has been chosen carefully to lend it's artistic edge. I can't wait until this book is in print so I can buy it! I was drawn in by the incredible cover and was hooked with the phrase: "Or so the humans believed." Love her work and continue to be impressed! Strong characters – wonderful world. Well worth the read!"—Wormhole Review Blogspot
"a gorgeous fantasy graphic novel written by YA author Jane Yolen (Foiled) and illustrated by Rebecca Guay, who is probably best known as one of the illustrators of the card game Magic: The Gathering. Guay's style is a throwback to the Golden Age of children's books, reminiscent of Maxfield Parrish and Arthur Rackham in its combination of pseudo-classical styling and luminous color. I usually find books like this boring, but Yolen pairs up a smart young woman with a blowhard Fabio look-alike to accomplish the central task of the story, killing a dragon that has been terrorizing a small village. It's a fairy-tale type story that manages to feel fresh despite its traditional setting and tropes. It's due out in early September, and it's definitely something to watch for."—What Are You Reading with Mike Baeh
"I've enjoyed this book so much that I can't wait to get my hands on a larger copy so I can really lose myself in this story again."—Julia Slaughter
"The world building was extensive and never interfered with the story. Secondary characters and plot threads worked well and expanded the story to a point where I felt like I was experiencing an epic instead of a single graphic novel. There was humor and action, romance and adventure . . . Okay, it was just plain great. I recommend THE LAST DRAGON for anyone who loves fantasy, whether you're a graphic novel fan or not. In fact, I'm planning on ordering copies as gifts for people who are not fantasy fans, but are art lovers. I'm quite sure they'll love everything about it."—Pat Esden Journal
"As a newcomer to the graphic novel format, I was amazed by the beauty of the artwork and the amount of information they could convey to help me understand the tale. Jane Yolen has a magical touch with words, which is evident from the very first page. The lettering, borders, and illustrations were beautifully matched with the story. The artwork of the dragon was powerful, majestic, and fearsome. There were many times when I just stopped and flipped back through the pages to look at the artwork again. This is a beautiful mix of a classic legend framework with a more modern sensibility."—Fandom Post
"The bewitching illustrations in this fairytale graphic novel will surprise you. Yes, this is another village-versus-dragon story, but it is intelligently revisited and, as it turns out, is a compelling story…This romantic adventure has great presentation; the larger-sized hardbound tome feels somehow ancient and otherworldly."–Bookmark
"A compelling coming-of-age fantasy with exquisite fully painted art!"—An Abundance of Books
"I was so impressed with this title that I plan on purchasing a copy for my library when I get the chance, both Yolen and Guay's other works are going on my To Read list as well. This wonderful work of picture and prose is perfect for fans of fantasy or mythological fiction."—Dragon Page Cover to Cover
"This book is perfect for both adults and YA readers. The language of the book is both original and easy to comprehend. Combined with Guay's illustrations, the story builds a original world, without falling into the trap of a "standard fantasy" setting. The combination of inspired storytelling and museum-worthy art will entrance and lure even those readers who would not usually read a graphic novel. This book also solved the problem of what to get my nieces and nephew for the holidays. If you like fantasy with a creative bent, I highly recommend The Last Dragon."—Bookshelf Bombshells