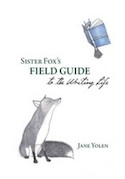 Sister Fox's Guide to the Writing Life: Poems
First published in 2013 by Unsettling Wonder, in conjunction with Papaveria Press.
Papaveria is an imprint of Circle Six
I first met the editor, John Patrick Pazdziora as he was finishing his doctorate at St Andrews University in English Literature. My friend Debby brought him, his lovely wife Rebecca, and their amazing then two year old daughter Fern to tea at my house. We began a conversation about his work (thesis on George Macdonald, plus interests in Scottish poetry, all things Andrew Lang(ish), Edwardian children's books, and fairy tales. No wonder we became friends and the conversation has not stopped yet.
We talked about possibly doing a book of my poems with his small press (now five books coming out in the next two years or three ,not sure how that happened!), plus he mentioned he was trying to put together with his professor an Andrew Lang conference for the university. My lecture as the 22nd Andrew Lang lecturer last November–first woman ever since the lecture had begun in 1927!–was partly his doing. And the book wholly his doing. Oh, and mine.
It began as a series of poems about writing called The Trees Commit, after one of the poems. And eventually, after I wrote four Sister Fox poems to open each section and to close the book, we agreed on a different title. There are over fifty poems on the writing life (muses, revisions, ideas, hard work, etc.) and most of them unpublished. They range from humorous to very serious. And the line drawings that open each section of Sister Fox are delicious.
I finished the book with his excellent editing, he became Dr. P with no help from me. Though I have since edited a bunch of his children's book mss. and expect copies when (not if) they are published.