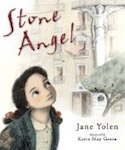 Illustrated by Katie May Green
Philomel Books (March 3, 2015)
ISBN-10: 0399167412
ISBN-13: 978-0399167416
I saw a photograph of a stone angel carving on an apartment building in Paris. The angel had originally been meant for a competition for a lighthouse but hadn't won. Years later it was used for the building. You can still see it in Paris. That photo was the seed that started the story. I wrote the first few lines thinking I was going to be writing a book about two children in Paris and it somehow morphed into a Holocaust picture book. Kirkus seems to think there were enough death. . .in a picture book???? Anyway, I am thrilled by the way Philomel and editor Jill Santopolo dealt with the illustrations and production values of the book. And hope it finds its audience.
Accolades:
On the 2016 list of Notable Books for a Global Society
Massachusetts Center for the Book Must Read choice
What reviewers have said:
*STARRED REVIEW* "Jane Yolen has crafted a moving portrayal of one little girl's faith, her family's courage, and the triumph of goodness over oppression…This story provides a wonderful addition to materials about World War II and the Holocaust, and is appropriate for even the gentlest of readers" — School Library Connection
"The graceful writing is poetic and often returns to the theme of angels. Using a subdued palette and soft textured effects, the mixed-media artwork creates an unusual sense of depth within the pictures. In an author's note, Yolen comments on historical subjects related to the story, such as Nazis, European freedom fighters, the Holocaust, and the angel statue in Paris. Children will feel the young narrator's hardships, but her family support and her faith lend warmth to this historical picture book." — Booklist
"Yolen uses the figure of a stone angel along the Rue de Turbigo to shape her story of desperation, flight, hope, and return. She tells it with great restraint and simplicity — which will render the book even more useful to its intended young audience. The subject material is grown-up, but the handling of it is sensitive and deft, never gruesome, never more than a child can handle. Katie May Green's somber mixed media illustrations rely on the dark, smudged shadowy quality of charcoal, brightened with flashes of red, blue, and soft green…This book, in its directness and simplicity, provides a beacon to all who study the past for a more hopeful path into the future." — Boston Globe
"A different take on a difficult subject." — Kirkus
"the story is an adventure tale of a family that sticks together, braves uprooting and hardship, and emerges from their trial whole and perhaps even closer than they ever were before." — San Diego Jewish World
"In a sobering but somehow also reassuring story beginning and ending in Paris, a young girl narrates her family's survival…In an afterword, Yolen offer some straightforward basic facts about the Holocaust underpinning the experiences in the book." — Lilith Magazine
"An unnamed Jewish girl living in Paris fervently believes in angels — she need only look at the Gothic buildings around her to know they exist. Those angels seem "farther and farther away" after the Nazis force her family to flee, but she never loses hope that a protective power watches over her. Writing in a style resembling blank verse, Yolen conveys a hushed sense of urgency and momentum: "Aron and I learned to be quiet, to become shadows, how to turn invisible, sleeping all day long, waking only at night." In her U.S. debut, British artist Green's velvety textures and rounded shapes exude coziness and familiarity in Paris, taking on a somber beauty when the family enters a literal and figurative wilderness, hiding with partisans in a lush green forest, before escaping to Spain over snowy mountains…pages convincingly portray a family tightly bound to one another, no matter how dire the circumstances."–Publishers Weekly