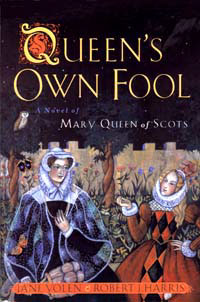 Stuart Quartet: Queen's Own Fool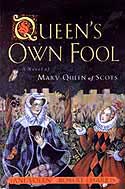 QUEEN'S OWN FOOL
with Robert J. Harris
Philomel 2000
ISBN# 0-399-23380-6 Philomel hardcover
ISBN# 0-698-11918-5 Puffin paperback
The Stuart Quartet:
This novel about Mary Queen of Scots is told from the point of view of one of her three female jesters. (Yes–there were three, though we know little about them.) Scottish writer Bob Harris and I worked on this book in Scotland. He visited some of the sites, I visited others. We have tried to make the novel both authentic and accessible. The story of Queen Mary's tragic life is full enough of excitement, so we didn't have to invent any of that! A Junior Library Guild selection. On the 2000 Capitol Choices – Noteworthy Books for Children list for Fourteen and Up. A Wyoming Soaring Eagle nominee. It was also one of the 2001 YALSA Best Books (YABB).
Questions and answers about the historical facts.
What reviewers have said:
"The life of Mary Queen of Scots gets a fascinating new telling in this sweeping novel narrated in the voice of a female Jester–La Jardiniere." — Booklist
"… a historical tale of great immediacy and impact … Based deeply in fact and full of detail both lush and sordid, the story's length will not discourage any reader who picks it up and begins to be enthralled." — Kirkus starred review
"This rich and involving novel of Mary, Queen of Scots and her court will have readers clamoring to know more about this dramatic period in French and Scottish history. Readers are treated to a fascinating look at royal politics through the eyes of Nicola Ambruzzi, an orphaned performer to whom the queen takes a fancy…Yolen and Harris do an excellent job of weaving historical information into the story…and the girl's spiritual and emotional growth make her a flesh-and-blood character. Readers will laugh at Nicola's way with words and forthright manner and delight in her skill of almost always being able to say the right thing to comfort the Queen or squelch the pompous advisors who surround her. The play of language is another major highlight in the novel." — School Library Journa; starred review
"The two authors have woven fiction and historical fact into a seamless tapestry. The details of Mary's life are accurate, and most of the characters are based on real people. By choosing to have one of the queen's female fools-about whom few facts are known-narrate the story, Yolen and Harris have imbued history with personality. Although unmannered (at first) and illiterate, Nicola possesses wisdom greater than her years; in fact, it is somewhat unbelievable that a child of her age would speak with such clever wit. Nevertheless, her eyewitness account of Queen Mary's tumultuous reign is vivid and engaging. Nicola is not simply a passive observer: her narration recounts her own experiences at court as she battles loneliness, finds and then loses a good friend, and plays an active role in Queen Mary's political and personal life. History provided an intriguing plot; the characterizations of Nicola, the queen, and the many other players in the drama create a fascinating historical novel." — Horn Book
"The reign of Mary Queen of Scots comes alive with distinctively drawn characters. It is cleverly told from Nicola's perspective. Descriptions of hangings and bloody decapitations, the punishments for treason used in the sixteenth century, are here. But so are clever wordplay and a clear vision of the entanglements. The authors immerse the reader in the time period with a powerful tale. This is top-notch historical fiction." — Children's Literature
"… there are a substantial number of polished, well-written novels which, while presenting historical events, also fulfill one of the most important rules of writing: tell a good story well. Certainly, Yolen and Harris's Queen's Own Fool is a shining example of the genre. Don't play the fool and miss it." — Rambles
"<T>he readers are expected to follow this convoluted history; they are not given a watered-down version, and the authors are to be congratulated for having such faith in their readers."–Kliatt
Available in hardcover and paperback.
---
Order from:
Search for Out of Print Books: