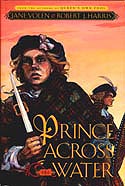 Stuart Quartet: Prince Across the Water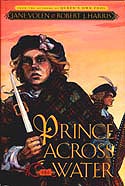 PRINCE ACROSS THE WATER
with Robert J. Harris
Philomel 2004
ISBN# 0-399-23897-2 Philomel hardcover
The Stuart Quartet:
Book 3 of the Stuart Quartet is about Bonnie Prince Charlie and the disastrous battle of Culloden that broke the Scottish clan system and saw the English banning the playing of bagpipes, the speaking of Scots Gaelic, and wearing tartan and kilts. (All of which was reinvented in the 19th and 20th century.) And it follows the prince across part of the Highland landscape as he escaped the English soldiers. But Charlie is not our main character. Rather we have an invented Highland boy who stands for all the young Highlanders who believed in the glory of battle and longed to put the Stuarts back on the Scottish throne. We first meet him in his Highland home, watch him interact with his family and clan. Interestingly, we began writing the two chapters that take place in the blood and mire of Culloden on the very week that American troops invaded Iraq. And if you don't think that didn't change the tenor and timbre of our telling, you don't understand how writers work. All writers are mired in society. We write what we know–and what we want to know.
ALA Best Books for Young Adults, 2005
Booklist Book Review Stars 2004
See Bob Harris's thoughts on working with me.
What reviewers have said:
"With likeable and realistic characters that we can identify and sympathize with, this is a book which will delight history buffs." — Through the Looking Glass Children's Book Review
"The convincing depictions of people and relationships earlier in the story deepen the sense of despair during the battle, which is realistically depicted as cruel, violent, and gory. … Combining a sensitive portrayal with dramatic tension, Trina Schart Hyman's sensitive jacket art promises exactly what this novel delivers: a spirited historical adventure and a sympathetic hero." — Booklist starred review
"Fans of the first two books, The Queen's Own Fool and Girl in the Cage will greatly enjoy this volume as will those seeking an adventure based strongly in historical fact." — VOYA
"Just as families gathered around the hearth when elders shared their tales of war and heroism, Yolen and Harris reward readers with a gripping journey into the Scottish Highlands." — School Library Journal
"The authors' skill at bringing this feudal and martial mindset to life gives the horrific mid-book battle scenes great impact and lends authenticity to Duncan's new, more complicated view of war. Drama wins out over historical accuracy when Yolen and Harris give Duncan an important role in helping Bonnie Prince Charlie escape to France, but this is a well-told story set in an intriguing era that will leave readers mulling over thoughts of war and peace." — Horn Book
"A thrilling historical tale of honor, courage, strength and survival."– KidsBookshelf.com