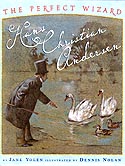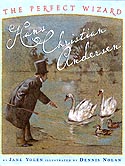 THE PERFECT WIZARD
Illustrated by Dennis Nolan
Dutton 2004
ISBN # 0-525-46955-9 Dutton hardcover
I have been a long-time fan of Hans Christian Andersen's work. My favorites include "The Snow Queen," "The Nightingale" and "The Emperor's New Clothes." Occasionally I am called "America's Hans Christian Andersen," to which I sometimes respond, "Actually I am the Hans Jewish Andersen." So when editor Steve Meltzer at Dutton called and said they were wanting to do a picture book biography of Andersen and would I be interested, I jumped at the chance.
Now I started re-reading Andersen's own autobiography which was as much a fiction as his tales. And several biographies and all his stories. I read articles and travel journals and had a great time. And then I read that August Strindberg had called Andersen "the perfect wizard" and I had my title. When my old friend–and collaborator on three previous books–Dennis Nolan was asked to illustrate, I was delighted. (We did DOVE ISABEAU, WINGS, and SHERWOOD together.)
Then I pushed Dutton to have the book come out in 2005 as that is the two hundredth anniversary of Andersen's birth. What great luck–it has been chosen as one of the official books for the International Andersen celebration. Here's to you, Mr. Wizard!
Available as an audio book from Recorded Books.
Awards:
Nomination Capitol Choices
CCBC Choices 2006, the Cooperative Children's Book Center's annual best-of-the-year list
2006 Best Children's Book of the Year (Selected by the Children's Book Committee at Bank Street College of Education) in the Biography category
Named to the 2006 Notable Social Studies Trade Books for Young People
What reviewers have said:
"Intriguingly explores the fusion of an artist's work and life, and leaves readers with much to ponder" — Publishers Weekly starred review
"This handsome biography is a fine choice to display or read aloud on April 2, which is International Children's Book Day and (no coincidence here) Hans Christian Andersen's birthday." — Booklist
"With atmospheric art work which show scenes both from Hans' life and also from his famous stories, this wonderful picture book not only tells us about Hans' life but shows us how many of his own life experiences appeared in his stories. … Carefully chosen quotations from Hans' books can be found thriughout this suberbly written book." — Through the Looking Glass Children's Book Review
With a well-measured note from the author and a meticulous listing of excerpt sources, this is a carefully crafted, lovely, and loving tribute to the father of the modern fairy tale." — School Library Journal
"Factual, sensitively recounted biographical details are interspersed with quotes from Andersen's stories in this account of the beloved writer's life. Sepia-toned illustrations portray scenes from both Andersen's life and his tales, and add to the nostalgic tone of the text"–Booklinks
"A commendably candid picture-book biography, emphasizing the early years of the great Danish storyteller who was born in April 1805. The full-page illustrations soften the details of an anguished life. Each page of text also has an illustrated scene and quotation from one of the familiar tales like "The Ugly Duckling" and "The Emperor's New Clothes."–New York Times
"August Strindberg supplied the comments from which Yolen takes her title and from there she proceeds to show the reader exactly how this homely, poor, but enormously gifted and ambitious young man became the creator of some of the best-known fairy tales for children. Each page includes historical information about Andersen's youth, paired with an excerpt from his writing illuminated by the just-learned facts. Nolan's sepia and pastel art complements the text with a full-page illustration of Yolen's fascinating biographical facts and an oval insert illustration of the excerpt from Andersen's own work. This exquisite package is completed by author notes and a listing of the titles and publication dates of the excerpts. Not only will this be perfect for author studies, but it is also a book to fall into with a young person snuggled beside you."—Capitol Choices
"With atmospheric art work which show scenes both from Han's life and also from his famous stories, this wonderful picture book not only tells us about Han's life but shows us how many of his own life experiences appeared in his stories. . . .Carefully chosen quotations from Hans's books can be found throughout this superbly written book."– Through The Looking Glass Children's Book Review