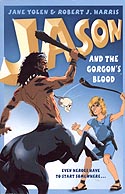 Young Heroes: Jason and the Gorgon's Blood
JASON AND THE GORGON'S BLOOD
with Robert J. Harris
HarperCollins 2004
ISBN# 0-06-029452-3
ISBN# 0-00-713417-7 (British softcover)
The Young Heroes series:
For the fourth (and alas final) Young Heroes book, Bob and I decided on Jason because the old tales tell about how he was raised on a mountain by the kindly centaur, Chiron. I was the one to come up with the idea that Chiron would be running a princely boot camp for the sons of local nobility. Bob came up with the gorgon's blood. As usual, Bob worked mostly on plot, I worked on scenes and dialogue. We both polished and repolished. Why do I say, "Alas final"? The publisher wants no more Young Heroes books. Though every week I get letters or email demanding the next in the series, despite the books finding their way on to important lists, we have been told to move on. Such is the world of publishing these days.
See Bob Harris's thoughts on working with me.
What reviewers have said:
"There is plenty of action to keep mythology enthusiasts happy, and the band of angry and violent centaurs and attacks by hungry harpies could convert new fans to the genre. This entry in the series does not disappoint." — School Library Journal
"The journey not only brings on a nonstop cascade of literal and figurative cliffhangers, punctuated by encounters with harpies, a goddess, and brutish centaurs, but also challenges Jason to exercise all of the qualities of a good leader: courage, quick wit, persuasiveness, the ability to bring out the best in his companions" — Booklist
"Here the future leader of the Argonauts is sent on a mission that prefigures some of the themes from the quest for the Golden Fleece but also makes for a self-contained, high-action adventure yarn." — The Washington Post
"An exciting novel based on Greek mythology that all fantasy readers will enjoy." — Kidsbookshelf