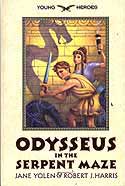 Young Heroes: Odysseus in the Serpent Maze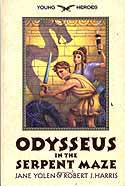 ODYSSEUS IN THE SERPENT MAZE
with Robert J. Harris
HarperCollins 2001
ISBN# 0-06-028734-9
ISBN# 0-00-713414-2 Collins Voyager paperback UK
The Young Heroes series:
The idea of a Young Heroes series came from my editor at HarperCollins, but choosing to work with Bob Harris–already my co-conspirator from Queen's Own Fool who had a degree from St Andrews University in Classics–that was my idea. Together we decided to have both boy and girl heroes and project them backwards, using what archeologists have told us about the civilization he or she would have inhabited if our young heroes had been real.
We began with Odysseus, that consummate hero, and took some monsters from the mythology for him to encounter. As well as Helen of Troy and Penelope (whom we all know he later married) and his best friend Mentor and … had a whopping good time writing.
A Junior Library Guild selection. It is on the Young Hoosier (Indiana) State Award list for the Intermediate Award Books, Grades 4-6. There is a Britsh and a Thai edition.
See Bob Harris's thoughts on working with me.
What reviewers have said:
"Yolen and Harris open a promising series dubbed "Young Heroes" with this tale of the teenage Odysseus encountering storms, pirates, creatures both natural and supernatural–and a wise, practical young woman to take some of the air out of his inflated ego. … this will go down as smoothly as a "Young Hercules" novelization, while giving readers a taste of what awaits them in The Odyssey." — Kirkus
"The cliffhanger chapter endings, snappy humor, and breakneck adventure are reminiscent of an Indiana Jones film, and the characters are richly drawn, with plenty of girl power to balance the boys' heroics. Well-integrated historical detail and an authors' note enhances this page-turner for middle-graders." — Booklist
"… there is humor aplenty to keep the pages turning. Readers with some background in Greek mythology will appreciate the foreshadowing of coming events, but that knowledge isn't necessary to get carried along by the breakneck pace." — Bulletin of the Center of Children's Books.
"This delightful book is full of humor, cunning and wiliness. Boys will enjoy this book for the adventure and girls will love the strong female characters, who are as much heroines as Odysseus is a hero. Hopefully, Yolen and Harris will write more adventures for Odysseus and his friends." — Children's Literature
"The team behind last year's The Queen's Own Fool launches the Young Heroes series with a rollicking adventure … No previous knowledge of ancient Greece is necessary, and readers may well be entertained by the fast-paced and sometimes slapstick antics of crafty Odysseus (who develops a crease between his eyebrows when he's "about to come up with an outlandish excuse lie, fib, wile for doing something he'd already decided to do") and his cautious friend, Mentor. … the authors may well draw boys and girls in equal numbers and send them clamoring for more Greek myths." — Publishers Weekly
"The authors have done a fine job of placing this original tale firmly into the Greek literature tradition. For fans of myth, it will be a welcome addition; use it to introduce adventure enthusiasts to mythology as well." — School Library Journal
"The older reader, into three through seventh grades, will enjoy Odysseus in the Serpent Maze … they [Yolen and Harris] have created the first of what is sure to be a very popular series." — Bookviews
"This entertaining adventure novel is a great introduction to the Greek myths." — Instructor Magazine
"This book has a lot going for it – suspense, intrigue, magic, a fast pace, and characters that will appeal to both boys and girls. Imagining the early life of famous heroes is a charming concept, and this appears to be the first in a series. What is especially nice is that it may attract readers to the original myth, arguably one of the greatest tales ever told. Let's hope the series continues in this vein. " — Palo Alto Public Library reviews
See the Kidsreads.com review.
Available in hard cover (paperback in the UK).
---
Order from:
Search for Out of Print Books: