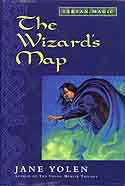 Tartan Magic: The Wizard's Map
THE WIZARD'S MAP
Tartan Magic Book 1
Harcourt Brace 1999
ISBN# 0-15-202067-5 Harcourt hardcover
ISBN# 0-15-216365-4 Magic Carpet paperback
The Tartan Magic series:
The first book in the Tartan Magic series. An American family comes to Scotland for the summer and immediately falls into magic. Twins Jennifer and Peter try to rescue their four-year old sister who has been captured by the wicked wizard, Michael Scot. (Actually a real character out of Scottish history!) He says he's willing to trade her for the map which they've found, but they are smart enough to realize they can't trust him. The setting is in Fairburn, a made-up city that feels a lot like St. Andrews where my husband and I spend our summers. (But don't tell anyone.) There's a dour talking dog who speaks in Scottish dialect and a trio of enchanted animals–dragon, unicorn, hound. I've appended a helpful glossary of Scottish words in the back of the book. Wizard's Map is on the 2003 Massachusetts Book Award master list.
I patterned the garden in Wizard's Map after our Scottish garden…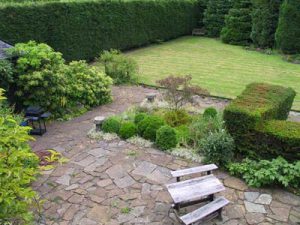 …and the medieval gate the kids see when they first enter Fairburn after the West Port in St Andrews.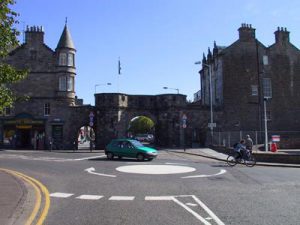 What reviewers have said:
"The action never flags, making this a sure bet for fantasy and adventure fans."–Booklist
"I thoroughly enjoyed this short novel from beginning to end. . .This title is a great addition to the fantasy genre, and it's the perfect length for upper-elementary book reports."–Library Talk
"This book is a fast-paced fantasy and adventure story that will keep those pages turning until the stunning conclusion."–NIE Newspapers in Education
"Yolen has once again given us a fine new series of fantasy stories. Set in Scotland and populated by American children and Scottish family members, the story includes an old wizard and a member of the oldest race in Scotland. . . . a quick and enjoyable read." -Kliatt
"In this, the first of a series called Tartan Magic, her inventive imagination, precise and incisive understanding of humanity, and absolutely incredible ability to create endlessly fascinating characters and plots has never been more vital and positively organic. . . .The story of three children visiting relatives in Scotland contemporaneously is enlivened by wee braw magicks afoot in hidden rooms in dust "actics." Fans of Yolen's other work, especially the Young Merlin trilogy, will adore this, as will her more mature admirers of her fairy story and folktale collections."– Rambles online magazine
"Once again, this master storyteller weaves humor, intelligence, and life lessons into a beautifully crafted yarn."–SF Site (www.sfsite.com)