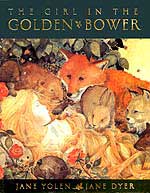 Girl in the Golden Bower, The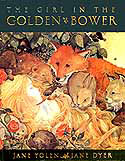 THE GIRL IN THE GOLDEN BOWER
Illustrated by Jane Dyer
Little Brown 1994
ISBN #0-316-96894-3 hardcover
ISBN #0-316-96939-7 paperback
An original fairy tale about a child whose sorceress stepmother leaves her out in the woods to die. Jane Dyer wanted to illustrate an original fairy tale and I had the first three pages of this one done, without a plot in sight. The editor Maria Modugno put it under contract and hoped I'd find a story in time. Evidently I did! Jane's daughter Brook posed for the picture of the grown up girl, and Jane used Brook's old photos as a basis for the young child. As always, her work is a knockout. The mother is Jane Dyer looking startled. Her house cleaner posed for the wicked sorceress. We all want to meet the woodsman who is a strong figment of Jane's artistic imagination.
Accolades:
American Booksellers Pick of the List 1994
What reviewers have said:
"This elegant book may well leave a lasting impression on readers of all ages." — Publishers Weekly, starred review
"The author has skillfully woven elements of the classic fairy tales into a new incarnation. … The illustrations are suffused with a golden glow that adds to the magic of the story." — Children's Literature
"This original fairy tale has all of the elements of the genre. The writing is direct, yet filled with just the right amount of fantasy. Dyer's watercolor illustrations, printed on parchment-colored paper, are detailed and beautifully crafted, giving the entire production a feeling of having been handed down through the ages. Sure to be appreciated by groups and individual readers" — School Library Journal
"The text and illustrations are printed on paper that has been painted to resemble parchment. The double-page watercolor spreads, featuring portraits of the characters and detailed, swirling garlands of flowers and plants that spill over the borders, are executed in a palette of yellows, golds, light browns, and greens that beautifully complement the story's setting and tone. The lyrical language Yolen employs makes this an excellent choice for reading aloud." — BookList
"Every once in a while a book comes along which simply takes your breath away. GIRL IN THE GOLDEN  BOWER is one such book. . . .And if the illustrations aren't enough, there are Jane Yolen's words. Yolen has that amazing ability to create stories alive with deeply-rooted significance, stories that mean much more than the words say, stories that speak right to your heart."–Chinaberry
"This original fairy tale by master storyteller Jane Yolen satisfies on every level as a well-spun story set in a timeless world where kindness is ultimately rewarded. . . .Dyer's watercolors, framed in fairy tale gold, waft one along to a landscape likely to inspire lush, richly-colored dreams."–Family Fun Magazine
"Yolen's phrases are lyrical,with some powerful passages, and a particularly poignant ending."–Bulletin of the Center of Childrens' Books
". . .a transporting experience to be cherished by all who live the magic and romance of fairy tales."–Childrens' Book Review
". . .a winning, original fantasy–Boston Glob
Both editions are still in print.
---
Order from:
Search for Out of Print Books: