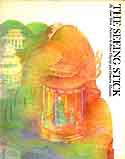 Illustrated by Remy Charlip and Demtra Marsalis (Crowell)
Illustrated by Daniela Terrazzini (Running Press Kids)
T. Y. Crowell 1977
Running Press Kids 2009
ISBN# 0-690-00455-9 Crowell
ISBN# 0-762-42048-0 Running Press Kids
This original fairy tale about a Chinese princess who is blind is one of my own personal favorites. Surprisingly, I started it after reading an article in the magazine "Field and Stream." When I first read a draft to my writing group, the last line was not in place. One of the writers asked, "Is the old man blind. too? I wasn't sure." At which point I understood what my entire story was about! Interesting conjunction: just as the book came out, friends of ours had twins, one of whom was born with seriously impaired vision. This became the boy's first autographed book. The art begins in black and white and bursts into full color when the little princess learns to see with her fingers. The first printing of "Seeing Stick" had rough black end papers. The second printing, produced after the editor had been fired, had white end papers which totally changed Charlip's vision for the book. When he complained, the new editor said to him "Remy, nobody but you will even notice." I have both copies in the files. The book won the Christopher Medal and was published in Japan as well. After a run of twenty years, the book went OP, to be reissued with different illustrations and by a different publishing company twelve years later. The great recycle of publishing life!
The story has been in innumerable textbooks, as well as reprinted in Cricket and Ms magazines.
Accolades:
The Christopher Medal (my first)
100 best books of the year (1977) selected by the New York Pubic Library,
1978 International Reading Association's (IRA) Classroom Choice Book
Recording:
There is a recording of THE SEEING STICK on the storytelling tape, THE INVISIBLE WAY: STORIES OF WISDOM, by Susan Danoff.
What reviewers have said:
"In cadenced, dignified prose reminiscent of the traditional rhythms of ancient Chinese tales, Yolen tells a sensitive and graceful story…"—School Library Journal
"Yolen and Charlip have been honored for their many contributions to children's literature. They are that their best here…"—Publisher's Weekly
"This enchanting tale with it's magical illustrations open up a whole new world of seeing."—KidsBookShelf.com
"Jane Yolen has written numbers of successful fairy tales. They all have much in common: a dreamy sweetness that echoes Oscar Wilde. This gentle story is no exception."—New York Times
"This is a fairytale like no other! A mysterious old man, a beautiful princess and the magic of seeing with fingertips. Read as the little princess's world is transformed by her new perspective. Astounding illustrations and an expertly woven story mesmerize and delight. The magic of this tale lies in sharing a new view of the world with its young readers."—Read Along with Biblio
"The wonderful narrative of Jane Yolen not only stands the test of time, but it stands the test of current theory and practice…This book would make a wonderful addition to any well-rounded collection of international tales. It should also find its place into any unit or discussion on disabilities, perhaps better called differences."—Teach with Picture Books
"This enchanting tale with it's magical illustrations open up a whole new world of seeing."– KidsBookShelf.com
"This is a fairytale like no other! A mysterious old man, a beautiful princess and the magic of seeing with fingertips. Read as the little princess's world is transformed by her new perspective. Astounding illustrations and an expertly woven story mesmerize and delight. The magic of this tale lies in sharing a new view of the world with its young readers."—Read Along with Biblio
"First published in 1977 to critical acclaim, "The Seeing Stick" is now republished with new, lavish illustrations. This extraordinary story inspires, engages and gently teaches lessons on courage, self-acceptance, tolerance and kindness, making "The Seeing Stick" a must-read."—LehighValleyLive.com
"My favorite title read this week, definitely goes to Jane Yolen's reissue of The Seeing Stick. She illustrator Daniela Jaglenka Terrazzini have created a magical reading experience, just begging to be placed in the hands of children. This is definitely on my Christmas giving list this year!. . . The truly magical part about this enchanting book is the illustrations. Beginning dark and gray, they become brilliant with color and texture, itching to be touched. I tried finding some info on how Terrazzini created the amazing pages to go along with Yolen's beautiful fairy tale, but didn't have any luck."—A Patchwork of Books blog
"Thirty plus years later, this inspirational book tells the story of a young emperor's daughter without vision, who manages to 'see' with her fingers and open up a whole new world. It's a beautiful story and will offer children a perspective on our many senses and how we can use them to experience our world. The illustrations are glorious and could stand alone as a work of art."—Kiwi Magazine, October 2009
"Without a doubt, the most remarkable part of this striking new edition of Jane Yolen's 1977 title are the pictures… the tale comes to vibrant life with newcomer (this is only her second children's title!) Daniela Terrazzini's magical pictures…The transformation of Hwei Ming's world, both in her story and on the actual page, is astonishing. Terrazzini's talent truly presents a magical gift of technicolor sight."—Smithsonian Pan Asian Pacific Studies' "Book Dragon" blog, 10/09
"Beautifully embossed pages invite young readers to trace their own fingertips across the page, learning how the princess 'grew eyes on the tips of her fingers.'"—Minneapolis Star Tribune, 11/27/09
"I've read an incredible number of picture books, but the beauty of these pages was a surprise even for me. I was, quite literally, seeing the story in a new way."—TeachWithPictureBooks.com, 12/2/09
"Terrazzini's illustrations are exquisite, and even if the story hadn't been written by the immensely talented Yolen, the pictures alone would make it a worthwhile purchase."—Biblio-voracious BlogSpot