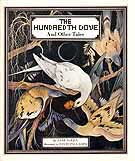 THE HUNDREDTH DOVE
Illustrated by David Palladini
T. Y. Crowell 1977
ISBN# 0-690-01366-3 Crowell hardcover
ISBN# 0-690-01366-3 Schocken paperback
Six of these seven fairy tales are totally original–"The Hundredth Dove," "The Maiden Made of Fire," "The Wind Cap," "The White Seal Maid," "The Promise," "The Lady and the Merman." The seventh, "Once A Good Man," was based on an old story. This was the third collection of fairy tales I wrote and together with The Girl Who Cried Flowers and Moon Ribbon led to my being called the Hans Christian Andersen of America. Putting the stories in a single volume was the idea of my astute and wonderful editor Ann K. Beneduce, and she had a hand in all my fairy tales for many years after. There were editions in England and Japan.
"The White Seal Maid", published in THE HUNDREDTH DOVE and TALES OF WONDER, on her tape "Word Dreams".
British edition published by J. M. Dent & Sons Ltd.
The story "The Hundredth Dove" was used as the basis for a ballet performed by Pioneer Ballet in Northampton, MA.
Accolades:
A Notable Children's Trade Book in the Field of Social Studies 1978
What reviewers have said:
"The author's elegant style and soaring imagination make her new collection every bit as enthralling as the 11 award-winning books she is famous for…All seven tales are original and lovely."—Publishers Weekly
"Yolen's fables are told with sober strength and native wit. They are simple and perfect without a word too much."—NY Times
"Beautifully illustrated. . .a collection of delightful stories which should stir the imagination of every reader."—The Lady Magazine
"This has a subtlety that makes it a special purchase."–Hibernia magazine
Buy THE HUNDREDTH DOVE from: