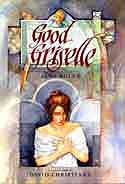 GOOD GRISELLE
Illustrated by David Christiana
Harcourt Brace 1994
ISBN# 0-15-231701-5
An original fairy tale about a good woman, the devil, a bet between the angels and gargoyles on a French cathedral, and an ugly little boy. The climax takes place on Christmas eve. I began the story after a visit to Paris with my husband, where we spent the weekend with one of my editors who was in France for half a year with her scientist husband. The entire story came to me in a flash. Rare for that to happen. But it took about six weeks to get the story into the shape I wanted. I was in Tucson with yet another editor, and we went into an art/book gallery to see the work of a young artist, David Christiana. I knew immediately that he should do the illustrations for this book. When I sent his name and address to the art director at Harcourt Brace, he said, "I've been looking for a project for Christiana. Thanks for reminding me." Nominated for the 1995 Mythopoeic Award.
Fascinating article in Disabled Studies Quarterly.
Recordings:
GOOD GRISELLE is told by Milbre Burch in her storytelling tape, "The Ready Heart: More Jane Yolen Stories." KindCrone Publications.
Recorded Books, narrated by John McDonough, 1997.
Reprinted in GIRLS LIFE, December/January 1996
Featured in the New Yorker's Year End Round-Up of Children's Books
Reviews:
*STARRED* "Yolen reaches new heights in this flawless tale. . . .The prose is lush but exquisitely restrained, and moves to the measured cadences of another, more gracious era. . .the illustrations reveal a world where crouching gargoyles hint of dark purposes and the shadowed and oblique are infinitely more intriguing than the overt. In a word, heavenly."–starred review, PW
"Written in Yolen's rich and layered prose. . .Yolen has created a strong, memorable character who faces a moral dilemma and makes decisions that readers will understand. . . . Don't save this one for Christmas; it's a story for the whole year."—SLJ
"Told with language as precise—and illustrated with watercolors as delicate—as the "miracles of lace" the heroine creates."—Kirkus
"It will touch anyone who imagines a story about those strange figures carved in stone."—Booklist
"Jane Yolen's deep knowledge of folklore and fairy tales is immediately evident in this tale of her own devising."—Children's Book Review Magazine
"This fascinating story of love conquering evil is beautifully illustrated by David Christiana. His soft pastels being the story to life; a story that is to be read and read again since each reading adds something new to the telling. Another winner for Jane Yolen!"—Catholic Library World
"Once in a while a book comes along that is pretty near perfect; its text is outstanding; its illustrations complement the words and take the story a step further; its paper is of high quality, the colors are faithfully reproduced. . . .All in all, a class act. The book is an elegant piece of work and deserves to be read by all ages."—Montreal Gazette
"This may well be destined for the classics shelf for all listeners over 5 years old."—Read-Aloud Service
"Yolen wears her title of award-winning author extraordinaire perfectly in his magical faiy tale."—Kid's Home Library
Out of print.
---
Order from:
Search for Out of Print Books: