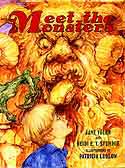 MEET THE MONSTERS
Written with Heidi E. Y. Stemple
Illustrated by Patricia Ludlow
Walker 1996
ISBN# 0-8027-8441-0 Walker hardcover
I was called by the editor at Walker who wanted a picture book on monsters. "Only if I can write it with my daughter," I said. She was delighted and so Heidi got to work on her first book. We divided up the monsters (I got Nessie and the golem as I recall) and each wrote our own sections. Then we traded and revised each other's pieces. The artist is British and had done a witch book we'd all liked a lot. Most important to me was that Heidi and I decided every monster had to come with instructions on how to get rid of them. Silver bullets for werewolves, stake or garlic for vampires, erasing the golem's name, etc.
See Heidi's description of this book.
What reviewers have said:
"No self-respecting child will be able to resist." — School Library Journal
"This guide book to monsters of the world is enough to scare the socks off almost any child — but in a way it's reassuring." — Philadelphia Inquirer
"A great read-aloud." — Union Democrat
Out of print..
---
Order from:
Search for Out of Print Books: