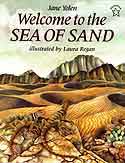 Welcome to the Sea of Sand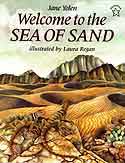 WELCOME TO THE SEA OF SAND
Illustrated by Laura Regan
ISBN# 0-399-22765-2 Putnams hardcover
ISBN# 0-698-11771-9 PaperStar paperback
This book is about the Sonora desert in occasional rhyme, part of a series of four Welcome To … books. It takes a lot of research to write a poem about a place. I have been to the Sonoran desert section in Arizona several times, as well as deserts in Israel, California and Australia. The book was an ABA Pick of the List and selected by School Library Journal as one of the Best Books of 1996.
The Welcome to… books:
See Laura Regan's page on this book.
See the review in Spirited Reviews.
There was a Scholastic Book Club edition and Scholastic Book Fair edition, as well as an audio recording in 2009 Science Program through Macmillan.
What reviewers have said:
"Only Jane Yolen could write such a wonderful and poetic tribute to the beauties of the desert, where there is constant amazement to be found….Regan's paintings are inviting and breathtaking." — American Bookseller
"A poetic narrative that collaboration of art and words, and gives a comfortable armchair tour of a beautiful, rugged, surprisingly varied place. Regan's artwork, starts and ends with a panoramic, and in between it brings children in for close-up views that are almost photographic in their realism. Yolen paints just as inviting a picture as she chooses words that simultaneously describe and establish a rhythm of their own. She speaks of "a huddle of ocelots at noon/ in the shadow of a cave./ a slither of green lizards,/ the dither of butterflies." The surprising variety of wildlife, weather, and conditions in this sea of sand will give young readers a new look at a place they might have thought dry and barren. This book celebrates the Sonora Desert in the same way Regan and Yolen celebrated the rain forest in Welcome to the Green House (Putnam 1993). A short note in the back provides more information about the desert and some creatures depicted in the illustrations, but not identified in the text." — School Library Journal
"Using a brief but lively, rhyming text combined with attractive, gouache paintings, this picture book welcomes the young reader to "the sea of sand." The author uses most of the book to point out the variety of plants and animals that flourish in an environment that is dry, but not really barren. This would be a good choice for storyhours." — Children's Literature
"Regan's paintings are a perfect match for Yolen's poem, and her skillful use of greens, browns, and grays will help children appreciate books illustrated with more subtle colors. A good companion to the author and illustrator's "Welcome to the Green House" (1993)" — BookList
"A picture book whose evocative text and colorful, exquisite detail explore a sea of sand. Yolen's desert imagery emerges in steady rhyme and alliteration. . .Regan's lush spreads dramatically portray the extraordinary world of desert creatures."—Catholic Library World
"Fans of Jane Yolen will be delighted. . .in Sea of Sand she gives young readers a picture perfect world of life in the Sonora Desert. She transforms what the uninitiated might view as a barren, lonely nowhere into a special somewhere. . .the book has a language and cadence that will keep even the most rambunctious youngster interested. Yolen chooses words that have personalities of their own. . . ."—Bookscapes
Available in both hardcover and paperback.
---
Order from:
Search for Out of Print Books: