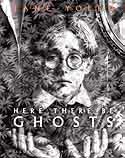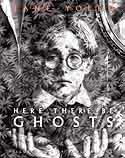 HERE THERE BE GHOSTS
Illustrated by David Wilgus
Harcourt Brace 1998
ISBN # 0-15-201566-3 Harcourt hardcover
Short stories and poems, all written by me, having to do with ghosts. As I had written very few ghost stories up to that point, most of them are new. Included are "Mandy" about a ghost dog based on the dog I owned when I was a teenager and "Green Ghosts," based on happenings in a house around the corner from me. Each story and poem begins with a short introduction about how it came to be written.
The Here there Be… series
Awards:
Best Books: Middle And Junior High School Library Catalog, Eighth Edition, 2000; H.W. Wilson
What reviewers have said:
"Yolen's collection ranges from sharp tales narrated by modernday kids to stately stories reminiscent of folklore to poems about seances and feuding ghosts. Intriguing author notes explain the origins of each story."-Horn Book
"These ghosts are frequently likable, with personalities and endearing flaws. The stories are well written and vary in style. "–Booklist
"Readers will do some serious thinking about topics such as God, souls, and the supernatural while devouring these creepy tales."–School Library Journal
"Yolen spins these ghostly tales with her customary ease, playing skillfully on the subtleties of fear. Not all the ghosts are terrifying–each has personality, uniqueness. A delightful post-script to the other "Here There Be…" books (Dragons, Unicorns, and Witches) in what has, happily for Yolen's fans, become a series. Teachers of writing should appreciate the author's background note for each piece, which helps render transparent the process of writing."–Children's Literature
"Well-crafted examples of prose and poetry are intricately meshed together in Jane Yolen's Here There Be Ghosts. Dealing with the timeless appeal of the traditional ghost story bordered with the popularity of recurring urban legend motifs. Yolen presents the adolescent reader with stories and poems that evoke shivers and touch the heart. Melancholia threads itself throughout the collection, but hope is also evident. The adolescent protagonist is empowered. In "Prom Ghost," the young sister of the popular captain of the football team works through her grief at his death on prom night and at her own senior prom comes to terms with her brother's mortality. Very real teen issues are evident in the story. Yolen's literary collection demonstrates a writer's reflection upon the past, present, and future. When literary works connect the writer's and reader's reflections, they are worthy of sharing."–ALAN Review
"Yolen proves that ghost stories need not exclusively be about blood, gore, and screams in the night in this collection of seven poems and eleven short stories (six of which are reprints). Nearly all of the pieces do feature ghosts and/or supernatural phenomena such as seances, desanctification of churches, exorcisms, and travel through time and space. The stories fall into two categories: contemporary (sometimes humorous) tales told in the first person by young narrators, and fantasies or fairy tales in third person. The first category includes Mrs. Ambroseworthy, about a drowned choir director who returns for the Christmas concert; and Prom Ghost, where a girl learns the truth about how her older brother and his prom date died. Many of the protagonists come from homes with single parents or stepparents. . .Examples of the second category–and here Yolen showcases her masterful storytelling talent–include The Moon Ribbon with its Cinderella motif; and Souls, a chilling tale about a boy who is told it is all right to kill soul-less animals and then takes this to its logical, horrifying extreme. Each entry is prefaced by a description of its origin and the circumstances under which it was written. Often these include events or people from the author's own life, as in Mandy, about a homesick boy at camp who is befriended by a magical dog; here Yolen resurrects the beloved black Lab of her childhood. One serious poem was composed during a week when two of the author's friends died." –VOYA
Available in hardcover.
---
Order from:
Search for Out of Print Books: