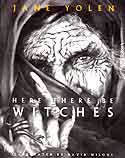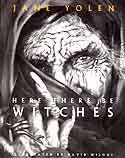 HERE THERE BE WITCHES
Illustrated by David Wilgus
Harcourt Brace 1995
ISBN# 0-15-200311-8 Harcourt hardcover
ISBN# 0-15-201657-0 Harcourt paperback
Short stories and poems, all written by me and having to do with witches. A number of them had been published already, but there are new stories as well. Each story and poem begins with a short introduction about how it came to be written.
The book was a 1996 Quick Pick for Reluctant Young Adult Readers (YALSA).
#9 on the "What Kids Are Reading List" in Los Angeles Magazine, November 1996.
The Here there Be… series
What reviewers have said:
"An intriguing and entertaining compilation that will appeal to young readers with an interest in the scarey and supernatural."—Booklist
"Yolen has written an amazing melange of stories and poems about witches.. . .Her way with words falls deftly on the ear and will guarantee a chorus of "just one more.""—The Alan Review
"Yolen weaves her darkly graceful magic in this companion volume to Here There Be Dragons and Here There Be Unicorns (both Harcourt). In brief statements introducing each short story or poem in the collection, Yolen comments on the writing process. Wilgus's compelling illustrations are perfectly suited to this contemporary treatment of a fascinating ancient subject."—Horn Book
"(T)he book's strengths are its variety and sense of humor; the latter informs all aspects of the volume in which Yolen gracefully combines things magical with things psychological."—Kirkus
"Part of the book's charm is that it can be read in bits and pieces and in no particular order. It would work well for older adolescents…"—Signal Journal
"Some are wise, some mean, some lovely. Some are very short, some very long, but all are written with the remarkable turns of phrase, rhythms, and pacing, and powerful word choices for which Yolen is known."—The Story Bag; National Storytelling Newsletter
"A strong, imaginative sens of story and elegabt crisp language are trademarks of Yolen's work, and this collection is no exception."—School Library Journal
Available in both hardcover and paperback.
---
Order from:
Search for Out of Print Books: